Objective /Benefits
---
WORKSHOP OBJECTIVE
Good writing is the foundation of good business; the ability to communicate concisely and effectively with your employees, colleagues, customers and the public, will greatly assist you to get ahead. Differentiate yourself from the competition by learning the fundamentals of written communication while discovering the power of effective writing skills.
This specially designed 2-day training helps develop and refine your writing skills, empowering you to use your competitive edge in writing to get your point across in a clear and concise manner. Your active participation in our program provides you with a rigorous training environment, enabling you to apply and sustain your learning with the aim of forming winning habits.
At the end of the training, you should have gained the ability to create a positive impact at every opportunity where effective business writing is required.
Impress The Point! Through Effective Business Writing focuses on the following areas:
• Context
• Rules
• Skills
• Styles
• Guidelines
WORKSHOP OUTCOME
After completing the training, you should be able to:
• Build winning relationships with your readers; employees, colleagues, customers and the public
• Discover and model your writing style to others
• Use various writing strategies to achieve any desired outcome
• Express your point effectively
• Rediscover your passion in writing
METHODOLOGY
To change your direction, shift your thinking.
However long ago you learnt to ride a bicycle, it's likely an experience you've never forgotten. The skill remains with you today. When was your last corporate training program? How much of what was learnt is actively applied in your business today? Are all that remains the workshop manuals left on your shelf?
Our programs are initiatives that last. They encourage new ways of thinking. They open up ways to create extraordinary achievements. We believe individual behavior and attitude contribute significantly to the overall excellence of your organization. So we focus on what really matters.
Our unique methodology of combining experiential, instructional and discovery learning, and supported by modern coaching technology, creates powerful shifts in attitudes and behavior that will encourage sustainable change in your organization. These changes make an impact on results where it matters.
In our programs, you can expect an extensive use of case studies, debriefing, dyads, facilitated coaching, feedback, games and activities, group discussions, lectures, psychodramas, simulations, story-telling and structured instruments.
---
Program Outline
---
WORKSHOP OUTLINE

Day 1:
Module 1: Overview
• Context setting
• Definition of written communication
• Why is good business writing good for business
• The 7Cs of professional business writing
• Commonly used business documents

Module 2: Writing Is Easy
• Developing a focused mindset towards writing
• Pre-writing techniques
• Who will catch the Road Runner?
• The Fear Factor
• Getting to results

Module 3: The Writing Process
• Context and content
• Define the purpose
• Objective, audience and tone
• Building objectives
• Discover your strategy

Module 4: Planning
• Visualization of facts and ideas
• The role of details
• Unity
• Support
• Organization

Module 5: Writing
• Definition of writing style
• The 5 proven styles of writing
• Writing models
• Relationship between styles and models
• Choosing the style and model for writing

Day 2:
Module 6: Presenting
• The past and future perspective
• How to write a business memo
• How to write a sales proposal
• How to write a press release
• How to write a business email
• How to write a business Thank-You note
• How to write a business proposal
• How to write a business report
• How to write an executive summary
• Scenario writing
• Relationship between styles, models and formats

Module 7: Revising
• The critical 3-step approach in revising
• The 5+1 Assessment Rule
• Focusing on positives
• Consistency in writing
• Active vs passive
• Being concise
• Comparatives and superlatives
• The role of punctuations
• How to proofread your own writing effectively

Module 8: Coaching Wisdom
• Distinction in effective business writing
• Tips and secrets in effective business writing
• The secret of a great writer
---
Profile
---
TRAINER PROFILE - PHILIP LEONG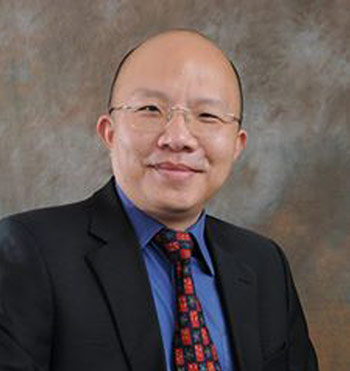 Philip, who has over 25 years' corporate and entrepreneur experience, holds a Master of Management joint degree from The Wharton School, J.L. Kellogg Graduate School of Management and Chulalongkorn University (Thailand). He also graduated recently from Ken Wilber's Integral Institute, USA and is a member of the International Coach Federation.
Armed with his vast experience in corporate management and entrepreneur experience, Philip's training scope covers coaching, leadership, sales, transformational mindset change and team performance. In sales, he focuses on communication, negotiation and presentation. He brings to his audiences his passion and energy together with a potent mixture of delivery styles in his trainings which include experiential learning, meta-coaching, neuro-semantics and psychodynamics.
Philip was the director of leadership programs in AsiaWorks, Asia's leading large group awareness training (LGAT) company before moving on to manage his own business in consulting, training and coaching. During his term in AsiaWorks, he has designed and conducted numerous leadership coaching and team-building programs for thousands of individuals and corporations. Over the last few years, his audience for training, coaching and development programs includes 3M, AffinBank, AIG, Alcatel, Alliance, AmBank, Ascott, ASTRO, BASF, BOH, Coway Woonjin, Curtin, Daikin, Dell, DHL, FedEx, Fuji Xerox, Great Eastern, GSK, HP, Hilton, Honda, Huawei, IBM, Ingram Micro, INTi, IOI, IPSOS, ISKL, JOS, JTI, MayBank, MEASAT, Monash, Mudah.my, Nokia Siemens, Novartis, OCBC, Olympia College, ON Semi, Oracle, Parkson, Petronas, Pfizer, Philips, POS, RHB, Royal Bank of Canada, Samsung, SAP, Sapura, Sharp, SEGi University, SenQ, Sime Darby, SONY, SCB, ST Micro, Starbucks, Starcom Mediavest, Sunway, Swift Haulage, Taylor's, Tasek, Telekom, TNB, TNT, Top Glove, Toshiba, U Mobile, UCSI, UMW and UOB. Some of his major international audience includes PT Diamond, PT Tigaraksa Satria and PT Huawei Tech in Indonesia, SPRING, NCS and SingTel in Singapore, VISA and MasterCard in Vietnam as well as Associated British Food in Thailand.
In 2007, Philip was elected into office of The AsiaWorks Foundation. The following year, he was assigned as an external coach to The Brand Laureate Group of Companies. He was made an associate of the Vietnam Consulting Group in 2009. In 2011, UCSI appointed Philip as an integral part of its team of elective trainers for their internal faculty trainings and external corporate projects.
Philip is an active community advocate and works in partnership with numerous NGOs in Malaysia and China to create a positive difference in the community he lives in. As part of his personal social responsibilities, he offers his services to conduct teambuilding trainings for various NGOs each year. He is particularly passionate about children and contributes his time and expertise extensively to orphanages and foster homes in his community. He resides in Malaysia and China and finds great joy spending time with his wife and three children.

---