Objective /Benefits
---
WORKSHOP OBJECTIVE
> To define the importance of coaching today
> To define the reasons for wanting to coach
> To list key differences between coaching and other interventions
> To list coach characteristics
> To define 11 coaching principles that allow acceleration of performance
> To utilize the 3 Stage Coaching Model – Observe>Empower>Embrace to coach for performance
CERTIFICATION
Participants will be awarded Certified Associate Coach upon completion of the program. With additional hours of practical, they will be eligible to receive another Certificate from the International Coaching Federation (ICF).
---
Program Outline
---
WORKSHOP OUTLINE

(Day 1)
Module 1: INTRODUCTION TO COACHING
• What is coaching?
• How coaching allows us to "win the inner game"
• How is coaching different from other interventions?

Module 2: INTRODUCTION TO COACHING - THE 10 COMPETENCIES OF A COACH (ICF CODE OF ETHICS)
• Mindset of a coach
• Competencies of a coach
• Ethics of a coach

Module 3: THE 3 STAGE COACHING MODEL
• "Observe": Observations, Reflections, Real goals & Challenges
• "Empower": Creating & Committing to a Game Plan
• "Embrace": Actioning the Game Plan & Re-evaluating Success

Module 4: #1: THE COACHING PRACTISE – "See"
• To discern real issue of coachee
• To develop trust and rapport during the coaching session
• To utilize 3 coaching tools: Deep Listening, Powerful Questioning and Raising Self Awareness

(Day 2)
Module 5: #2 THE COACHING PRACTISE – "Say"
• To create the best game plan to achieve the goal
• To ensure accountability and ownership of actions
• To empower change techniques to achieve goal

Module 6: #3 THE COACHING PRACTISE – "Do"
• To check on motivators and de-motivators in achieving goals
• To check on performance and progress
• To re-evaluate outcomes and alignment to goals

Module 4: MOVING FORWARD
• Establishing a coaching commitment
• Acknowledging and celebrating success
• Next Steps
---
Profile
---
TRAINER PROFILE - HETAL DOSHI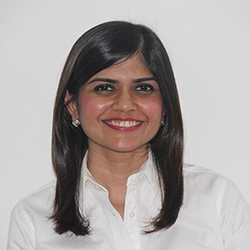 Hetal Doshi holds a Masters in Organisational Psychology from Macquarie University (Sydney, Australia), Honours in Psychology (Second Upper Class of Honours) from Murdoch University (Perth, Australia) and a Bachelors of Arts majoring in Psychology from the National University of Singapore (Singapore). She is a HRDF Certified trainer and is currently completing her International Coaching Federation (ICF) accredited coaching certification. She also is a certified user of several profiling tools including MBTI, DISC, Management Potential Evaluation (MPE,), Facet 5, SHL and Genesys.
Hetal has been in the business of organizational psychology for several years with a focus on consulting, training, coaching, talent selection and development, psychometric testing, developing assessment centres, outplacement and crisis consulting. She has worked successfully with individuals of varying job levels within the Banking, Services, Government, Universities, Manufacturing, Oil & Gas, Telecommunications and Transportation industries. Her work has taken her to countries and cities including Bangladesh, Hong Kong, Jakarta, Mumbai, Perth, Singapore, Shanghai, Sydney and Thailand. Within Malaysia, she has carried out work in states not limited to Cyberjaya, KL, Penang, Kuching, Johor, Seremban and Terrenganu.
Some of the clients Hetal has worked with in the past include Bank Negara, Deutsche Bank, iCIMB, OCBC Bank, HSBC Bank, Bank Muamalat, Monash University, Mahsa College, Intel, Infineon, iPertintis, Kementerian Dalam Negeri, MIDA, Imigresen Malaysia, TUDM, Petronas Carigali, Sarawak Energy, Technip, HP, Ericsson, Woman's Aid Organization, Nursing Professional Group, MISC, DHL, GE, Air Asia, Johnson and Johnson.
Hetal's core lies in Emotional Intelligence and seeks to identify and maximize the potential of all individuals within the workplace through gaining a deep appreciation of their personality, abilities, motivations, strengths and challenges.

---