Objective /Benefits
---
WORKSHOP OBJECTIVE
No matter how good or important a message, if it's not delivered in an interesting and effective way, chances is it won't be heard at all. Strong presentation skills can advance a career. Poor engagement, presentation and speaking skills can ground a rising star. In these three days session, learners will learn how to conquer the podium and deliver presentations that get results. From dynamic introductions to powerful closings, participants will have an opportunity during this seminar to practice and refine their platform skills.
WORKSHOP OUTCOME
Upon completing these two (2) Days session, the learners should be able to:
> Need Understand audience and be empathy. Customization of content based on audience
> Making effective powerpoint slide
> 1 Slide Presentation exercise
> Revamp existing presentation to measure the learning effectiveness
> Monthly Management Update to client / new business development and pitch presentation (2 key topics)
> Engaging Presentation Style (2 way presentation) / time constraint
> Objection and question how presenter deal with it
WORKSHOP ASSESSMENT AND CRITERIA
> Assessments on conducting an interactive delivery session
> Demonstrations and group mobility dynamics through the preparation of training resources
> Interactive Management Games both individuals and groups
> Peer-level feedback and Assessor's feedback for ' areas of improvement'
---
Program Outline
---
WORKSHOP OUTLINE

Day 1
Group Introduction and 'ice-breaking' Rapport Building

What it looks Like: The Anatomy of a Successful Training And Presentation Sessions
- This program begins with an examination of the parts of a presentation: a successful introduction, effective transitions, and captivating conclusions. Participants will dive in "head first" with a short practice presentation illustrating principles discussed.
- We need to understand audience and be empathy. Customization of content based on audience

What Do Your Audience Look Like...: Understanding Audience Differences
- Using Business Training Works' signature diagnostic tool, Adult Learning Styles, participants will identify their own presentation styles, the styles of different types of audience members, and how to adjust to each for better communication
- We will be making effective power point slide and 1 Slide Presentation exercise

Presentation VS Facilitation
- Deliver an effective and impactful experiential presentations session - strategies and perspective
- Apply latest adult learning theories to design and delivery – Facilitation Skills and Techniques

Group Dynamics Session (1)
NLP Mindset
- Understanding NLP concept from presentation and delivery perspective
- Managing oneself and audience during presentation session.
- applying NLP concepts in communicating with audience/participants
- Identify method to prevent difficult behaviours

Communication techniques
- verbal and non-verbal
- connecting with the audience
- getting audiences buy in and participation
- gestures, facial expressions and body language

Day 2
Group Dynamics Session (2)

Know-It-Alls, Talkers, and Bullies: Managing Hecklers
- It is sometimes said that "there is one in every group." A difficult person makes the job of a presenter a challenge at best. Learning how to manage those audience members who "don't want to be there" is an essential skill of top speakers. This segment explores handling difficult people and challenging situations.
- Preparation and Personal Coaching for each individual participant on their Presentations Session towards the finale of the Day 2. Direct tips, feedback on the preparation of the power points and materials needed for an effective training and presentation session.
- Revamp existing presentation to measure the learning effectiveness

Presentation skills as trainer
- Presentation skills to deliver content
- Engage participants and maintain interest
- Techniques in answering impromptu question
- Monthly Management Update to client / new business development and pitch presentation (2 key topics)
- Engaging Presentation Style (2 way presentation) / time constraint

Engagement Tools and Techniques
- Choosing and using VSK technique is an integral part of many presentations. This lesson reviews available options and the benefits and drawbacks of each

Negotiation skills
- Dealing with difficult participants
- Positively influence in all aspects of a negotiation
- Objection and question how presenter deals with it

People Who Can, Do: Preparation and Practice
- The program concludes with participants making various kinds of presentations: explanatory, informative, persuasive, etc. Each participant will be videotaped for review and critique.

Program Conclusion
At the program's conclusion, participants will understand what makes a high-impact interactive and engaging presentation sessions will have practiced and been critiqued on newly acquired skills.
---
Profile
---
TRAINER PROFILE - TIMOTHY LAW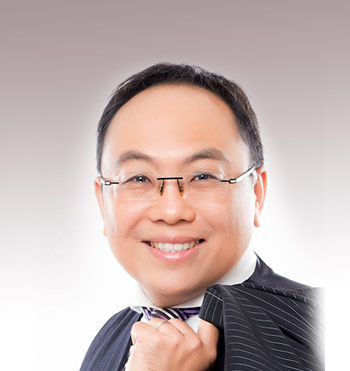 Driven by his personal motto to "impact lives through organization learning, training and development", Timothy's career is fuelled by a passion to inspire others. In his role as an Organisational Learning and Development Strategist, he constantly seeks to transform the way corporations as well as individuals think in order to help them reach their fullest potential. More specifically, his expertise lies in his innate ability to enhance performance management in the aspects of Human Resource (HR) and branding.
According to Timothy, everyone carries a brand and this applies to both corporate or personal settings. Therefore, it is crucial that efforts are continuously made to enhance the brand concerned.
In order to achieve this goal, Timothy advocates the creation of customised Key Performance Indicators (KPIs) that will help clients in monitoring their brand efficacy. These KPIs are formulated based on an in-depth understanding of the company's processes, objectives and current challenges. Timothy typically obtains such information through dialogue sessions with senior management and key staff representatives. Other methods such as workshops, focus groups and surveys are also commonly used for this purpose. Once he has gained a clear perspective of the organisation's specific needs, suitable action plans would be recommended to senior management for their review and implementation.
Timothy was holding the portfolio as the Human Resource Director at The Asia Pacific Brands Foundation (APBF). He also oversees daily operations at APBF in his capacity as a General Manager. Besides this, his portfolio includes a Brand Culture Consultant Trainer role. Furthermore, he plays an active part as a member of Pembangunan Sumber Manusia Berhad (PSMB)'s panel of Certified Assessors and Trainers where he conducts the much sought after Train The Trainer Program. In addition to this, he is also a module trainer for the Graduates Employability Management Scheme (GEMS).
Known to many as a dynamic entrepreneur and an engaging speaker, Timothy speaks from a wealth of experience that spans almost two decades. Over the years, he has accumulated vast corporate experience through his involvement in the training initiatives of various distinguished organisations – among them are the World Health Organisation (WHO), ExxonMobile, Citibank, Alstom Energy Power (M), On Semiconductor (USA) Pty. Ltd., Jotun Paint (M), TRW Automotive Services, Deustch Bank, Maybank, B Braun, Schering-Plough, Concorde Hotel, Prince Hotel, Siemens, Pantai Medical, Kompakar, Universiti Malaysia Perlis, Telekom Malaysia (TM), TotoWashlet (M), Perfect Food (M), CIMB Group, BERNAMA, AKADEMI PENCEGAH RASUAH (MACA), Department of Immigration Malaysia, Department of Defence Malaysia, Jebsen & Jessen (SEA) Pty. Ltd. and the Asia Pacific Institute of Information Technology (APIIT).
From an academic viewpoint, Timothy holds a Master in Business Administration (MBA), specializing in Organizational Behavior and a Graduate Diploma in Business Administration from the Newcastle Graduate School of Business, University of Newcastle, Australia. On top of that, he possesses a Diploma in Training and Assessment, focusing on the area of Competency and Assessment Frameworks as well as Development Consultancy. He is also recognized as a Certified Personality-Profiling Consultant.
Due to his outstanding contributions as a trainer, Timothy was presented with the Award for Teaching, Training and Assessments from Trinity & Guilds London in the year 2004. This has been a defining moment in his career and has further affirmed his beliefs that training is truly what he does best.
Despite Timothy's impressive professional background, modesty remains his middle name. He is not one to boast of his accomplishments nor to rest on his laurels; instead he is constantly seeking ways to improve himself and to seize every momentous opportunity that comes his way. His work ethics are driven by a constant thirst for new inspiration, and great importance is placed on staying attuned to the current needs and trends within the business community.
People are at the heart of Timothy's work and as a result, understanding his clients is of utmost importance to him. He often puts in a lot of time and effort in order to gain valuable insight into the unique nature and experiences of his clients. He strives to bring out the best in the people he works with through positive reinforcements and customized solutions tailored to provide timely aid to both individuals as well as teams. Consequently, his services have effectively cater to the needs of each client and has repeatedly generated commendable results.
Aside from his professional capabilities, Timothy is a gifted saxophonist and a certified music instructor with a Degree in Performing Arts from the London School of Music. Besides this, he is also an ardent deep-sea adventurer, and is a qualified Scuba Diving Assistant Instructor.

---