Objective /Benefits
---
WORKSHOP OVERVIEW
Studies reveal that as time goes by, the levels of perceived work stress are increasing. One study estimates that 26% of employees face high levels of burnout due to stress . In addition, 29% of employees encounter extreme stress at work . These numbers constitute more than a quarter of an organization's workforce.
It is an accepted fact that stress costs organizations money and other valuable resources that could be deployed in a more productive manner instead; not to mention, the welfare of employees at all levels. Stress causes a breakdown of communication and relationships, causing conflict and disharmony in the workplace. It is also a huge deterrent to productivity and quality of work. All in all, it is completely in the interest of any organization to invest in reducing or managing stress at the workplace.
Malaysia is on its way to competing with major global players, and this means that stress levels will continue to rise. There is a need for employees to be able to manage this stress. This program aims to increase participants' knowledge and understanding of stress, its components, and its sources. This understanding will empower participants to respond to stress in an effective manner. Employees will first analyze their existing stress-management style, and then be exposed to different stress-management techniques and strategies. Customizing these to find a solution that works for each of them, participants will complete this course feeling empowered to tackle stress that keeps them from delivering their very best for the organization.
WORKSHOP OBJECTIVE
> To define stress
> To experience the effects of stress
> To conceptualize the dynamics of stress in our lives
> To list the needs for stress management
> To list and increase awareness of multiple stressors
> To normalize stress factors which most people encounter
> To identify various stress symptoms
> To identify various responses to stress
> To identify our contribution to our stressors
> To identify and experience 4 types of stress management techniques – cognitive, emotional, physical and behavioral
> To reflect and identify stress management strategies that are most effective for ourselves going forward
---
Program Outline
---
WORKSHOP OUTLINE

DAY 1
Stress Stress Stress!
• What is stress?
• What causes your experience of stress?
• What are your expectations with stress management?

The Stress EQuation
• Stress as a fact of life
• Yerkes Dodson Law of Stress
• The importance of stress management

Where is the Stress Coming From?
• Stressors from work
• Stressors from home
• Stressors from the community
• Stressors from ourselves

Stress Responses
• The 3 Fs
• The Fear Factor
• The 4th F

Consequences and Symptoms of Stress
• Cognitive symptoms
• Emotional symptoms
• Behavioral symptoms
• Physiological symptoms

DAY 2
"Me" in the Stress EQuation
• How do I contribute to my stress
• Why do I contribute to my stress
• How to de-code and re-code our "mental software"

The Wheel Of Work-Life Integration
• Focusing on what is important in our lives
• Focusing on what we want and where we are at
• Letting go of what is not important

Stress Management Techniques - Cognitive
• Avoid
• Alter
• Accept
• Adapt

Stress Management Techniques - Behavioral
• Work-Life Integration
• Goal Setting and Planning
• 4 Disciplines of Execution

Stress Management Techniques - Physical
• Deep Breathing and Relaxation
• Exercise & Stretching
• Reflexology
• Rest/Diet

Stress Management Techniques – Emotional
• Ventilation
• Humor Therapy
• EmOCEAN and The Calm

Moving Forward – Stress Proof My Life
• Reflections
• Action Plan
• Gratitude & Optimism
---
Profile
---
TRAINER PROFILE - HETAL DOSHI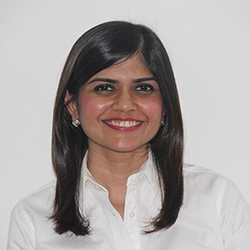 Hetal Doshi holds a Masters in Organisational Psychology from Macquarie University (Sydney, Australia), Honours in Psychology (Second Upper Class of Honours) from Murdoch University (Perth, Australia) and a Bachelors of Arts majoring in Psychology from the National University of Singapore (Singapore). She is a HRDF Certified trainer and is currently completing her International Coaching Federation (ICF) accredited coaching certification. She also is a certified user of several profiling tools including MBTI, DISC, Management Potential Evaluation (MPE,), Facet 5, SHL and Genesys.
Hetal has been in the business of organizational psychology for several years with a focus on consulting, training, coaching, talent selection and development, psychometric testing, developing assessment centres, outplacement and crisis consulting. She has worked successfully with individuals of varying job levels within the Banking, Services, Government, Universities, Manufacturing, Oil & Gas, Telecommunications and Transportation industries. Her work has taken her to countries and cities including Bangladesh, Hong Kong, Jakarta, Mumbai, Perth, Singapore, Shanghai, Sydney and Thailand. Within Malaysia, she has carried out work in states not limited to Cyberjaya, KL, Penang, Kuching, Johor, Seremban and Terrenganu.
Some of the clients Hetal has worked with in the past include Bank Negara, Deutsche Bank, iCIMB, OCBC Bank, HSBC Bank, Bank Muamalat, Monash University, Mahsa College, Intel, Infineon, iPertintis, Kementerian Dalam Negeri, MIDA, Imigresen Malaysia, TUDM, Petronas Carigali, Sarawak Energy, Technip, HP, Ericsson, Woman's Aid Organization, Nursing Professional Group, MISC, DHL, GE, Air Asia, Johnson and Johnson.
Hetal's core lies in Emotional Intelligence and seeks to identify and maximize the potential of all individuals within the workplace through gaining a deep appreciation of their personality, abilities, motivations, strengths and challenges.

---